Home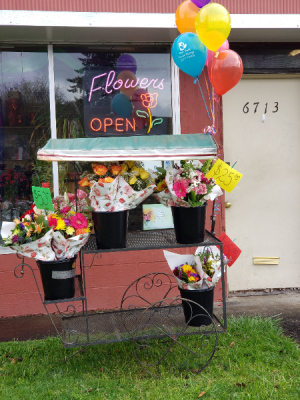 COVID-19 Grab-N-Go
50% off Reg Prices (Priced as marked)
Today we're offering some beautifully arranged mixed bunches for 50% off regular prices. If you're out and about swing by and pick yourself a little bit of happiness. There are FOUR ways to pay. You can call and make payment over the phone, our website, through our mail slot in the door, or come in if you absolutely need to. We are constantly disinfecting but please, if you're not feeling well, stay outside. NO CONTACT Delivery is also available.
More Info
Fumi's Floral Shoppe
Kern Park Flower Shop is one of Portland's longest running family-owned businesses. Enjoy this short film, "Fumi's Floral Shoppe," which is the story of five generations of a family who have played their part in running this Portland institution, which began in 1915 – this year marking the 104th anniversary. Integral to the story is 97-year-old Fumi Itami, a woman of Japanese descent and head of the family, who has seen the business through many changes and challenges, perhaps the most significant being the forced placement of Japanese-Americans into internment camps during WWII.