Summer Flowers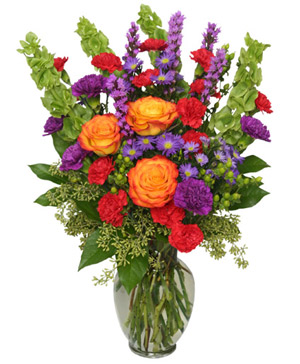 HOORAY FOR SUMMER!
Bouquet
Enjoying summer is easy with this arrangement. Bold, bright roses, carnations, and purple asters pack a punch against verdant green bells of Ireland. Shout, "Hooray!" and enjoy this piece of summer today!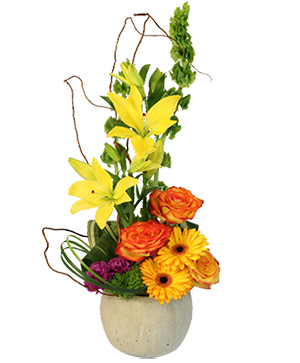 Rich & Bold
Flower Arrangement
Enjoy the colors of the season with beautiful yellow lilies, orange gerberas, High Magic roses, and purple carnations. Strong, bold lines and rich, colorful flowers make a great impression in this arrangement.
Kern Park Flower Shoppe creates a sunny sensation with vibrant summer flowers. Select a sizzling summer flower arrangement to add pizazz to your home or office. Send a ray of sunshine with a floral bouquet of summer flowers. Add a punch of tropical colors to your summer fun with a glorious flower arrangement. Celebrate the carefree days of summer with a crescendo of garden delights arranged impeccably in a vase. From the first bang of the season to the end of Indian summer, Kern Park Flower Shoppe creates a spectacular parade of colorful flower arrangements. Fun, festive and irresistible; the sheer pleasure of summer flowers awaits you in Portland.